This is the primary place to receive updates that relate to DBC, the Church Centre and Coronavirus. Changes relating to our activities and the Coronavirus will be communicated here.
Last updated 7th January 2022
Update from DBC leadership (extract from church family update)
Dear friends,
In Psalm 73:25-26 it says; 'Whom have I in heaven but you? I desire you more than anything on earth. My health may fail, and my spirit may grow weak, but God remains the strength of my heart; he is mine forever'. These verses are a great reminder that our strength and security come from our faithful and eternal God. We look to Him, trust in Him and rely on Him for 2022.
The latest variant of Covid19 is causing concern and anxiety and has resulted in the Scottish devolved government reinstating guidelines for places of worship which for example includes 1 metre distancing. These were updated on January 3rd. Right from the start of the Covid19 pandemic we have sought to follow government advice and guidelines. As a church we will be following the latest reinstated guidelines and have included them within our mitigation policies for both gathered worship, ministries and for the running of the Centre and Cornerstone Cafe.
We are very thankful that the government is supporting and encouraging local churches to gather for worship. Live-streaming the morning service will continue. We look forward to and pray for the day when it is possible for us all to gather again without restrictions.
Sunday Services: Services at 10.30am and 6.30pm will continue as usual, with the 10:30am also being livestreamed at DBCC Gillbrae.
Discoverers, for our primary school aged children, and Intense for secondary school children, will take place during the morning service.
PLEASE NOTE
o In addition to wearing a face covering, please dress warmly, as the windows and doors will be open to provide extra ventilation.
o Please take a lateral flow test if possible before coming to church.
o Please book in via Eventbrite or by phoning the office as soon as possible for both morning and evening services.
o Please use the hand sanitiser on arrival.
o Seats will be spaced to allow for increased social distancing.
o Please do not attend the service if you have any symptoms, even mild ones.
It will still be necessary to book to attend services at present due to 'Track & Trace'. Please book your seat(s) in good time every week for either service and don't feel worried about capacity and stopping others from getting a seat. If we reach capacity we may ask those who have been to a service regularly to skip a week.
You can book to attend either service through Eventbrite at https://www.eventbrite.co.uk/o/dumfries-baptist-church-31221345205
or by phoning/emailing the church office or scan the QR code on arrival.
Sunday-Saturday
Pastoral phone calls introduced during Covid19 from Alistair, Eoghan and team will lessen from July. The elderly, lonely, sick and those with other ongoing challenges and issues will be prioritised. As some Covid19 restrictions have lifted we are finding that more and more people are open to face to face pastoral visits and meetings. If you would appreciate a pastoral visit/meeting please do not hesitate to contact the church office, or Alistair and Eoghan.
Alistair - 07882 698428.
Eoghan - 07515 939698.
Church Office - 01387 268926.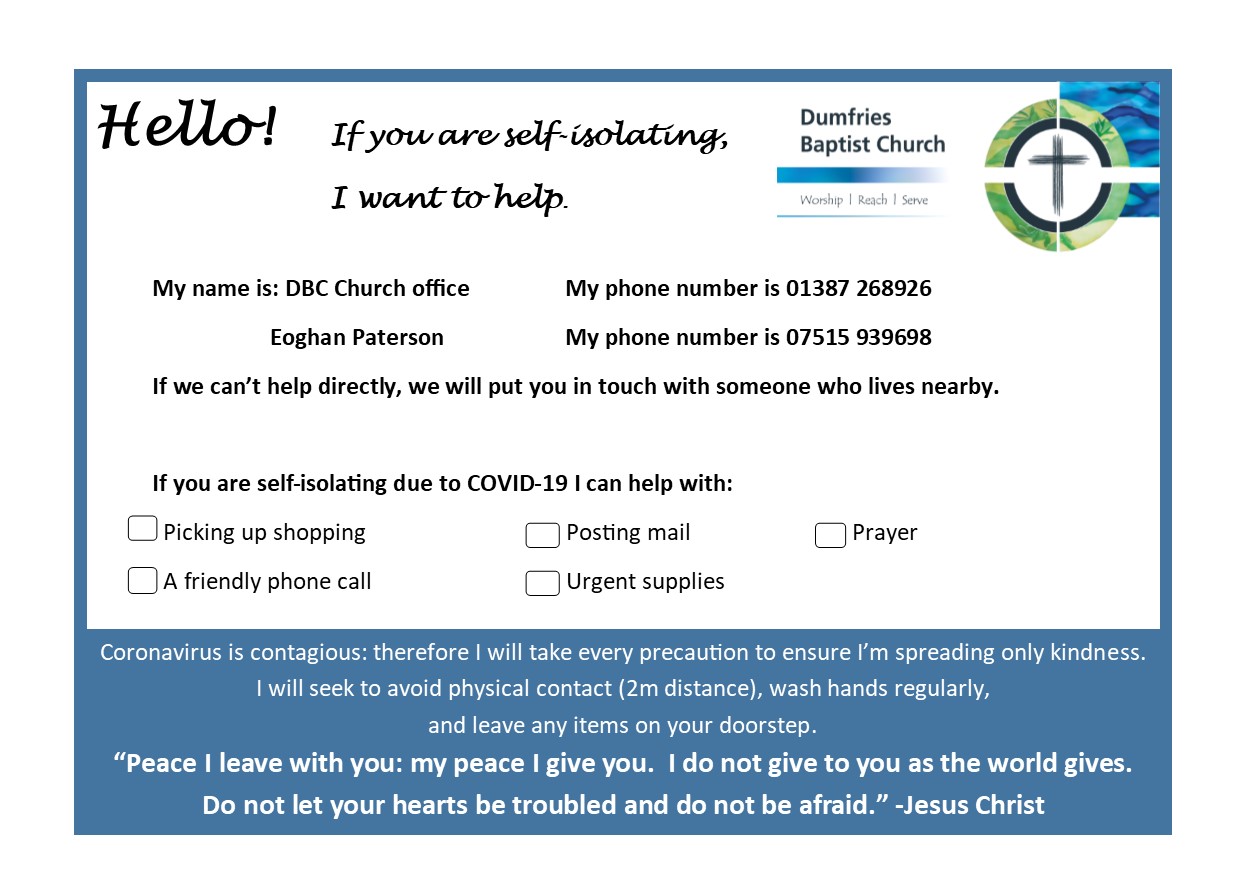 Sunday
1. Morning & evening service at DBCC and via the DBC YouTube
We return to our two Sunday services this week at 10.30am and 6.30pm. Discoverers, for our primary school aged children, and Intense for secondary school children, will take place during the morning service. Communion will normally alternate between morning and evening service each week.
Please book in for these services on Eventbrite at https://www.eventbrite.co.uk/o/dumfries-baptist-church-31221345205 , by telephoning/emailing the church office, or use the QR code on arrival.
The Sunday morning service is also livestreamed via the DBC YouTube channel at DBCC Gillbrae. Also, remember that you can visit the YouTube channel at anytime after it has been posted up on to our site.
2. Sunday Virtual Sunday School
For all our DBC children, please visit Virtual Sunday School to view a short video for Sunday. If you have children at home please connect into this and join in with them. This has been produced by 4front theatre company and a new video is posted every two weeks.
3. The Baptist Union of Scotland National Prayer event
This will be live monthly on the first Sunday of the month from 7-7.30pm on the BUS Facebook page. You will be reminded of this event and provided with access details every week via Facebook and email.
4. DBC Youth
Each Sunday the Youth team are meeting with our young people morning and evening. The Youth team are also connecting up with our young people in other ways through WhatsApp. Please contact Kristoff or Sabrina for more info by email youth@dumfriesbaptistchurch.org.uk

Wednesday
5. DBC evening Devotionals/Reflections
Alistair, Eoghan and others are producing evening devotionals which are going out via Facebook, DBC YouTube at DBCC Gillbrae and by email. These are posted online at 9pm.

Tuesday
6. The Deacons prayer meeting (the Deacons are the elected church leadership team)
The Pastors and Deacons will be meeting via Zoom online for a weekly time of prayer from 8.30-9pm.

Wednesday
7. The Deacons Meeting
The Deacons will be meet as normal for their monthly meeting via Zoom online from 7-9.30pm.


Thursday
8. Food parcel deliveries - started during lockdown, a small team continue to shop, pack and deliver food parcels to those in need within our community. We are grateful to all who continue to gift money and time to allow this vital work to continue.

Friday
10. DBC Prayer Gathering
Every Friday, Eoghan or Alistair will be hosting and leading a DBC Prayer Gathering from 7.30pm via Zoom. An email will be sent out to all our DBC church family with an invitation and a link. If you want to join in please download the Zoom app onto your phone, tablet, laptop or home computer. You do not need to sign up to Zoom to join the meeting.

We trust and hope that you will be able to access and benefit from some or all of these different opportunities in the weeks to come.
God bless you.
With our love,
Alistair and Eoghan