This is the primary place to receive updates that relate to DBC, the Church Centre and Coronavirus. Changes relating to our activities and the Coronavirus will be communicated here.
Last updated 12th October 2020
Update from DBC leadership (extract from church family update)
Dear friends,
In regards to providing opportunities to physically meet together, for worship, prayer, communion and teaching etc we have sought to be united in our approach as a Leadership Team and to be careful to listen to one another and others within the church family. As a Leadership Team we seek to practise unity in the midst of diversity.
In Ephesians 4:1-3 it says; 'As a prisoner for the Lord, then, I urge you to live a life worthy of the calling you have received. Be completely humble and gentle; be patient, bearing with one another in love. Make every effort to keep the unity of the Spirit through the bond of peace'.
In Ephesians 4:16 it says; 'From him the whole body, joined and held together by every supporting ligament, grows and builds itself up in love, as each part does its work'.
On behalf of the Leadership Team, I want to thank you for your support, encouragement and understanding over the last six plus months. Despite the diversity of views and opinions within the church regarding COVID-19, how we ought to respond to it, and what church life and ministry should look like in the midst of it, I want to thank you for considering others before yourself and for making church 'unity' your priority and goal. This, I believe, demonstrates our love and commitment to one another and above all our love for and desire to honour the Lord Jesus Christ during this difficult time.
Meeting together on a Sunday
As a Leadership Team we have decided that we will begin meeting on a Sunday at the Church Centre within the constraints of the restrictions that are in place. So from Sunday 25th October we will be offering a 10.30am service at the Church Centre. This service will be livestreamed and will therefore replace our existing online service, and attendance will be restricted to 50 people. If you wish to attend please book a place by no later than a Thursday evening each week through the Church EventBrite booking system, the link will also be sent by email and it will be available on the church's Facebook page. Alternatively you can book a place by emailing the church office at office@dumfriesbaptistchurch.org or by phoning the church office on 01387 268926. If no one answers the phone please leave a message. When booking a seat for more than one person please indicate the names and number in your party. Families with children and teenagers are very welcome to come to the service but please note that for now there are no separate crèche or other ministries arranged for them. We can provide a table for individual families to sit at during the service which we hope can make things easier for those with primary school age children. If for any reason you need to take your child out of the service please feel free to sit in The Avenue where you can listen to the service on the two screens. If there are others in The Avenue please adhere to social distance regulations.
Service format – what to expect
The Sunday gathering will be different from what you are used to. It will be laid out differently with only 50 seats! The service will include Live or pre-recorded elements. We will be able to share communion together, the bread and wine will be provided in two small plastic containers which will be placed on the shelf on the rear of your seat, it is not possible to serve you communion in the usual way due to government regulations. The Sunday service will be livestreamed and will replace our virtual service. The livestream service will also be available to view later on the DBC YouTube site.
Opportunities for individual prayer
The Church Centre is open for individual prayer from Monday – Friday from 10am-12pm. All government advice and guidelines regarding social distancing, a one way walking system, a signing in system (so we know who's been in the building), wearing nose/mouth masks, and hand sanitisers will be in place. Also, the building will be kept clean which includes doors, surfaces and toilets (which will be restricted to one male and female). This is open to church family, other local churches and the wider community. If necessary numbers will be restricted to allow social distancing
In the meantime, read on to find all the ways you can connect with church on Sunday and during the week!
Sunday-Saturday
Alistair, Eoghan and the Pastoral Care team continue to support church family, via phonecalls. If you have any concerns or needs please do not hesitate to contact one of us or leave a message on the church office phone which will be answered every week day morning.
Alistair - 07882 698428.
Eoghan - 07515 939698.
Church Office - 01387 268926.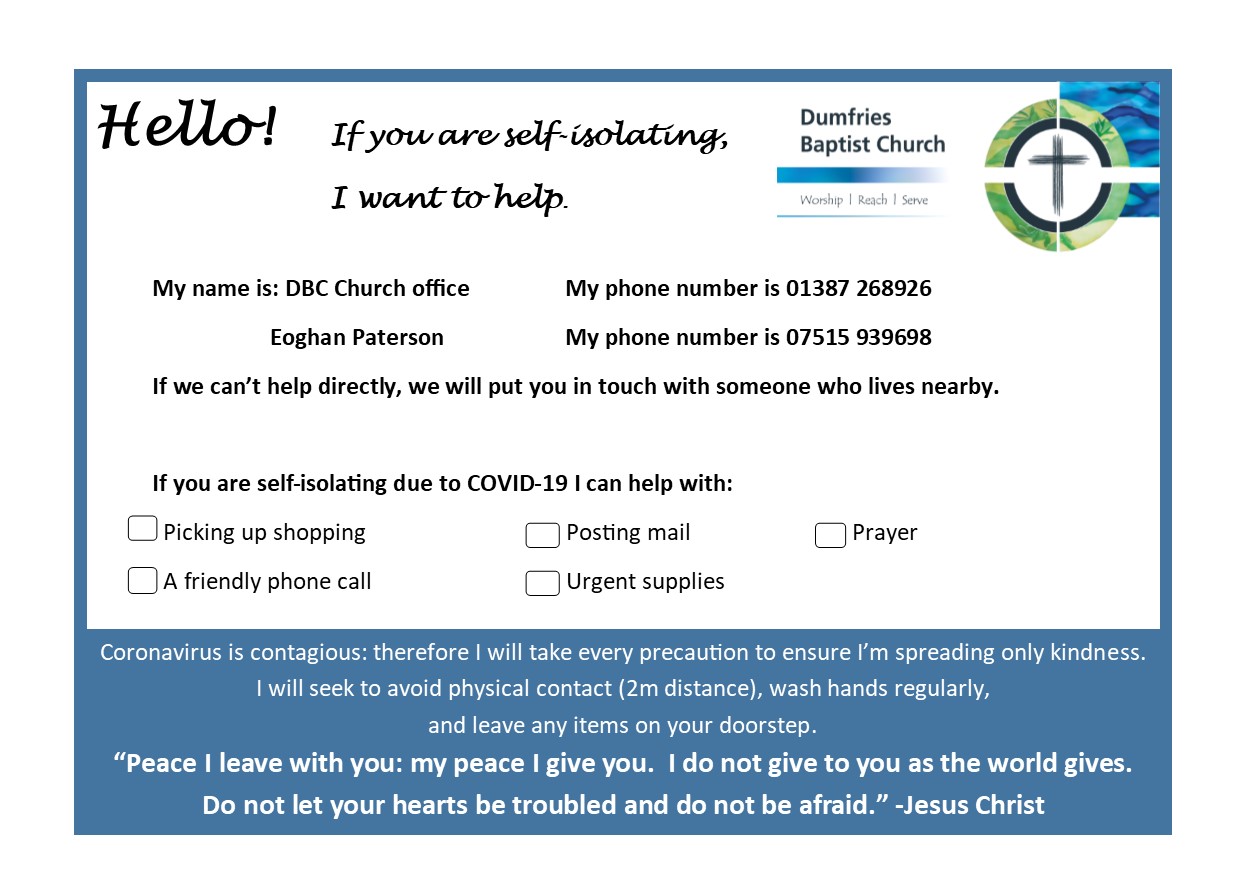 Sunday
1. Morning service in the Church Centre and via the DBC YouTube
From Sunday 25th October we will be offering a 10.30am service at the Church Centre. This service will be livestreamed and will therefore replace our existing online service, and attendance will be restricted to 50 people. If you wish to attend please book a place by no later than a Thursday evening each week through the Church EventBrite booking system. If you can't attend in person, please continue to visit the DBC YouTube channel at DBCC Gillbrae on Sunday mornings at 10.30am for our morning worship service. Also, remember that you can visit the YouTube channel at anytime after it has been posted up on to our site.
2. Sunday Virtual Sunday School
For all our DBC children, please visit Virtual Sunday School to view a short video for Sunday. If you have children at home please connect into this and join in with them. This has been produced by 4front theatre company and a new video is posted each week.

3. The Baptist Union of Scotland National Prayer event
This will be live monthly on the first Sunday of the month from 7-7.30pm on the BUS Facebook page. You will be reminded of this event and provided with access details every week via Facebook and email.
4. Discipleship Explored online – Sundays at 8pm, commencing week 23rd August
This eight-session journey through Paul's letter to the Philippians is ideal for believers at any stage of the Christian life. It features documentary-style films and inspiring real-life stories from around the world, Bible studies and weekly reading plans. Read more
5. DBC Youth
Each Sunday evening the Youth team are hosting and leading a WhatsApp Live DBC youth event. If you have young people at home please make sure that they can join in with this event. The Youth team are also connecting up with our young people in other ways through WhatsApp.

Monday - Saturday
6. DBC evening Devotionals/Reflections
Alistair, Eoghan and others are producing evening devotionals which are going out via Facebook, DBC YouTube at DBCC Gillbrae and by email. These are posted online at 9pm every evening.

Tuesday
7. The Deacons prayer meeting (the Deacons are the elected church leadership team)
The Pastors and Deacons will be meeting via Zoom online for a weekly time of prayer from 8.30-9pm.

Wednesday
8. The Deacons Meeting
The Deacons will be meet as normal for their monthly meeting via Zoom online from 7-9.30pm.

9. Christianity Explored online – Wednesdays at 8pm, commencing week 23rd August
An opportunity to find out more about the life and person of Jesus Christ over 7 sessions in Mark's gospel. Each session consists of a video clip followed by some questions and discussion. Read more

Thursday
10. Food parcel deliveries - started during lockdown, a small team continue to shop, pack and deliver food parcels to those in need within our community. We are grateful to all who continue to gift money and time to allow this vital work to continue.


11. Midweek Prayer Gathering
The weekly Prayer Gathering will be held on Thursdays at 2pm. Each session will last for approx. 45 mins and both sessions have the same content, including a Scripture reading, brief devotional thought and a prayer section. Each gathering will be restricted to 50 people and you are asked to let the church office know, by email or phone, if you plan to attend. You can also book a place online at the DBC EventBrite booking system.

12. Alpha online – Thursdays at 8pm, commencing week 23rd August
An 11 week course which explores some of life's big questions eg 'Why am I here?' ; 'Who is Jesus?' Each session consists of a video clip followed by discussion time. Read more

Friday
13. DBC Prayer Gathering
Every Friday, Eoghan or Alistair will be hosting and leading a DBC Prayer Gathering from 7.30pm via Zoom. An email will be sent out to all our DBC church family with an invitation and a link. If you want to join in please download the Zoom app onto your phone, tablet, laptop or home computer. You do not need to sign up to Zoom to join the meeting.

We trust and hope that you will be able to access and benefit from some or all of these different opportunities in the weeks to come.
God bless you.
With our love,
Alistair and Eoghan