This is the primary place to receive updates that relate to DBC, the Church Centre and Coronavirus. Changes relating to our activities and the Coronavirus will be communicated here.
Last updated 28th March 2020
Update from DBC leadership
Dear friends,
"I thank my God every time I remember you. In all my prayers for all of you, I always pray with joy because of your partnership in the gospel...being confident of this, that he who began a good work in you will carry it on to completion until the day of Christ Jesus" - Philippians 1:3-6.
These words written by Paul to a church that he loved and cared about deeply, reflect our own thoughts and feelings for the DBC church family.
Eoghan and I just wanted to give you a little update regarding Sunday services on the DBC YouTube channel, the daily evening reflections, pastoral care and other news and initiatives.
Sunday-Saturday
Eoghan and I have a list of all the over 70's, the vulnerable and those with underlying health issues and we plan to phone people on this list on a weekly basis. We have divided the list into two and at the end of each week we will alternate the two lists between the two of us. If you have any concerns or needs please do not hesitate to contact one of us or leave a message on the church office phone which will be answered every week day morning.
Alistair - 07882 698428.
Eoghan - 07515 939698.
Church Office - 01387 268926.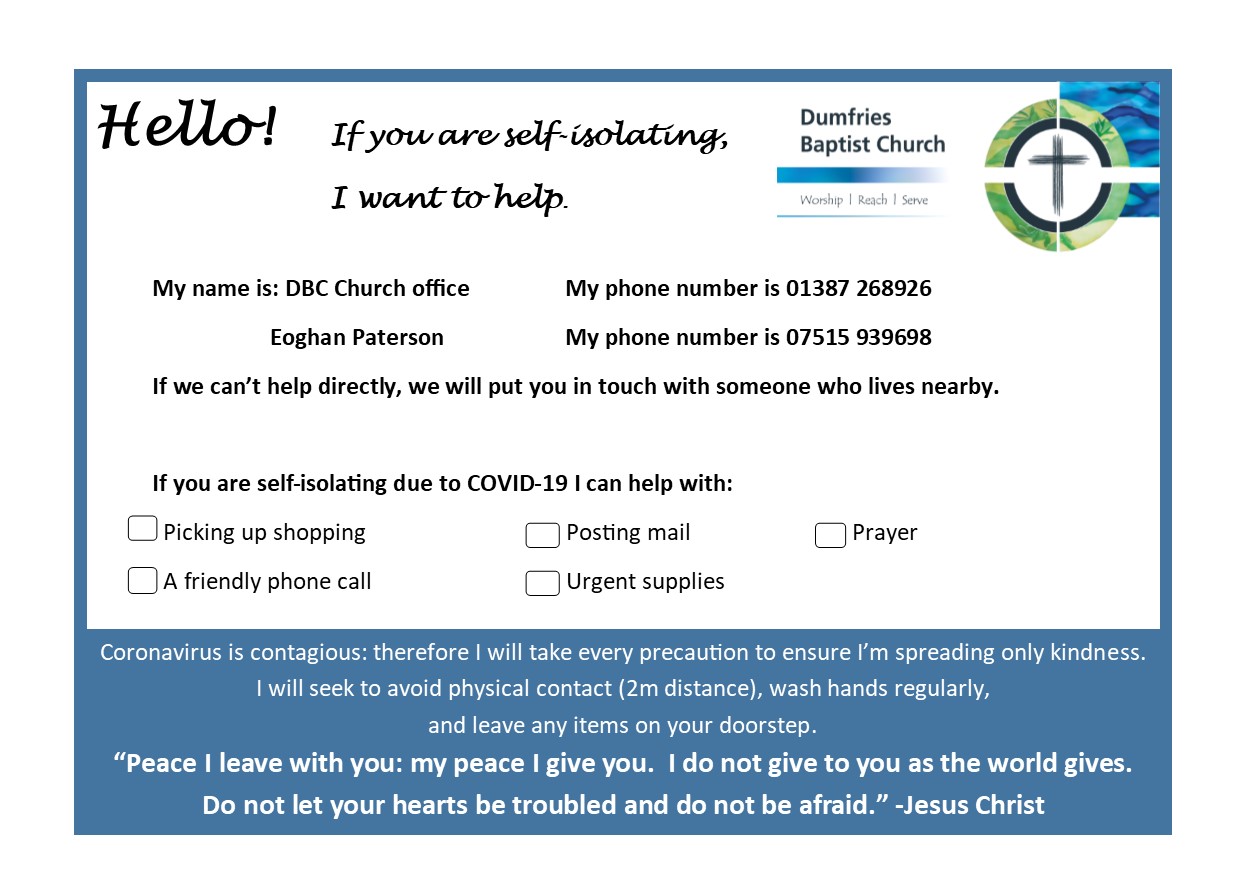 Sunday
1. Morning service via the DBC YouTube
Please continue to visit the DBC YouTube channel at DBCC Gillbrae on Sunday mornings at 10.30am for our morning worship service. Also, remember that you can visit the YouTube channel at anytime after it has been posted up on to our site.
2. Sunday Virtual Sunday School
For all our DBC children, please visit Virtual Sunday School to view a short video for Sunday. If you have children at home please connect into this and join in with them. This has been produced by 4front theatre company and a new video is posted each week.

3. The Baptist Union of Scotland National Prayer event
This will be live every Sunday evening from 7-7.30pm on the BUS Facebook page. You will be reminded of this event and provided with access details every week via Facebook and email.

4. DBC Sunday Alpha Course Group
The DBC Alpha Group is meeting via Zoom online.

5. DBC Youth
Each Sunday evening Andy Feather is hosting and leading a WhatsApp Live DBC youth event. If you have young people at home please make sure that they can join in with this event. Andy is also connecting up with our young people in other ways through WhatsApp.

Monday - Saturday
6. DBC evening Devotionals/Reflections
Eoghan and I are producing evening devotionals which are going out via Facebook, DBC YouTube at DBCC Gillbrae and by email. These are posted online at 9pm every evening. From Monday 30th March, Eoghan and I will be doing alternate evenings.

Tuesday
7. The Deacons prayer meeting (the Deacons are the elected church leadership team)
The Pastors and Deacons will be meeting via Zoom online for a weekly time of prayer from 8.30-9pm.

Wednesday
8. The Deacons Meeting
The Deacons will be meet as normal for their monthly meeting via Zoom online from 7-9.30pm.

Thursday
9. DBC Thursday Alpha Course Group
The DBC Alpha Group is meeting via Zoom.

Friday
10. DBC Prayer Gathering
From this coming Friday 3rd April, Eoghan or Alistair will be hosting and leading a DBC Prayer Gathering from 7.30pm via Zoom. An email will be sent out to all our DBC church family with an invitation and a link. If you want to join in please download the Zoom app onto your phone, tablet, laptop or home computer. You do not need to sign up to Zoom to join the meeting.

We trust and hope that you will be able to access and benefit from some or all of these different opportunities in the weeks to come.
God bless you.
With our love,
Alistair and Eoghan