This is the primary place to receive updates that relate to DBC, the Church Centre and Coronavirus. Changes relating to our activities and the Coronavirus will be communicated here.
Last updated 24th April 2021
Update from DBC leadership (extract from church family update)
Dear friends,
On Tuesday 20th April the Scottish devolved government confirmed increased numbers will be allowed for gathered worship from Monday 26th April. This means that churches are now allowed to determine numbers for gathered worship based upon the size of the worship space. Two metre social distancing and face coverings are required, and communal singing is still not allowed.

We know that we can fit 100 into the Auditorium and still satisfy all existing Covid19 regulations. 0-5 year olds are not counted within the number we can accommodate as long as they do not require a seat. We will therefore be offering 100 places for both the 9am and 11am services from Sunday 2nd May 2021.

If you have already been attending the 9am service please continue to do so. Please remember that the 11am service has the provision of children's ministry through the DBC Discoverers. Although the 11am service is not limited to young families we would ask that that you keep this in mind when booking a place.
Please book your seat(s) in good time every week for either service and don't feel worried about capacity and stopping others from getting a seat. If we reach capacity we may ask those who have been to a service regularly to skip a week.

You can book to attend either service by phoning the church office or through Eventbrite at https://www.eventbrite.co.uk/o/dumfries-baptist-church-31221345205
We recognise that there are still a number of folks within our church family who are shielding, and yet others who are either receiving treatment for, or who are recovering from, illness and therefore cannot gather with us for worship for some time. It's important that you know we miss you and pray for you. We look forward to the time when you can gather with the rest of the church family for worship. In the meantime we trust that the livestream provides a sense of connection with the church family.
Please pray that Covid19 cases continue to drop and that there will not be another escalation in cases which requires a further lockdown. It's unlikely that we will ever live in a Covid19 free world and so over time, and once the vaccination programme has been rolled out across the age ranges, we will have to begin to go about our lives with less restrictions.
Meeting together on a Sunday
We have made the decision as a Leadership Team that from Sunday 2nd May we will have back to back services on a Sunday morning, accommodating 100 at each service. The services will be at 9am and 11am. The 11am (not the 9am) service will be live-streamed as usual. Each service will run for about 1 hr 5-10 mins but no longer due to time restraints. Communion will be celebrated at one of the services each week, this will alternate from one to the other. For those coming for the 11am service please arrive after 10.30am, remember your seat is guaranteed!
Discoverers children's ministry will be provided at the 11am service only. You can book to attend either service by phoning the church office or through Eventbrite at https://www.eventbrite.co.uk/o/dumfries-baptist-church-31221345205
We plan to continue running back to back Sunday morning services until such times as the Covid19 regulations allow greater numbers at our gathered morning worship services. We've not forgotten about our evening worship service, we just feel at present that it's more important to provide as much opportunity as possible for people to attend our morning worship service.
The Sunday 11am service will also be livestreamed and available to view from 11am on the DBC YouTube site.
In the meantime, read on to find all the ways you can connect with church on Sunday and during the week!
Sunday-Saturday
Alistair, Eoghan and the Pastoral Care team continue to support church family, via phonecalls. If you have any concerns or needs please do not hesitate to contact one of us or leave a message on the church office phone which will be answered every week day morning.
Alistair - 07882 698428.
Eoghan - 07515 939698.
Church Office - 01387 268926.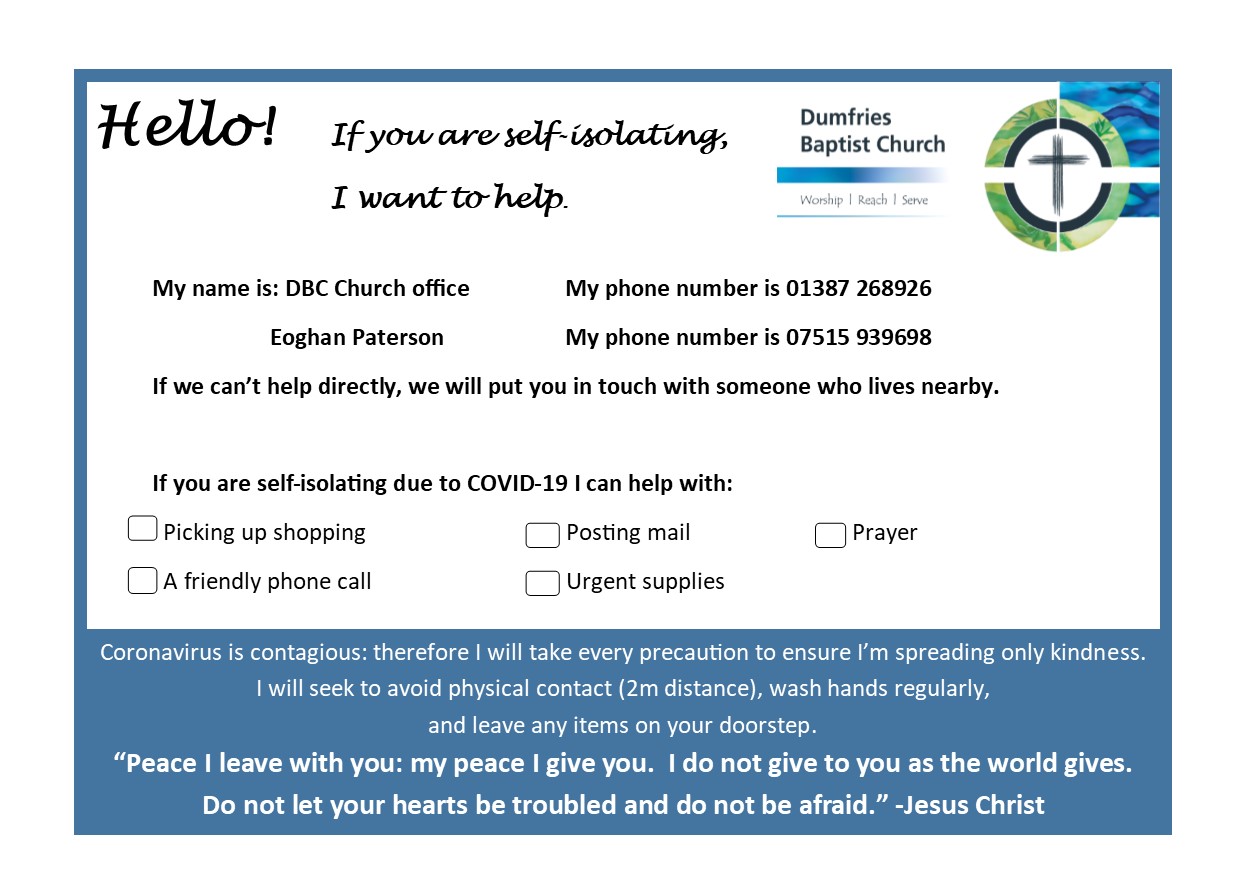 Sunday
1. Morning service at DBCC and via the DBC YouTube
From Sunday 11th April we will be offering a 9am and 11am service in the church centre and online via the DBC YouTube channel at DBCC Gillbrae on Sunday mornings. Also, remember that you can visit the YouTube channel at anytime after it has been posted up on to our site.
In addition, a Sunday evening communion service is being held via Zoom on the 2nd and 4th Sunday of the month. Details of how to join are sent out via the church office.
2. Sunday Virtual Sunday School
For all our DBC children, please visit Virtual Sunday School to view a short video for Sunday. If you have children at home please connect into this and join in with them. This has been produced by 4front theatre company and a new video is posted every two weeks.
3. The Baptist Union of Scotland National Prayer event
This will be live monthly on the first Sunday of the month from 7-7.30pm on the BUS Facebook page. You will be reminded of this event and provided with access details every week via Facebook and email.
4. DBC Youth
Each Sunday evening the Youth team are hosting and leading a WhatsApp Live DBC youth event. If you have young people at home please make sure that they can join in with this event. The Youth team are also connecting up with our young people in other ways through WhatsApp.

Monday, Wednesday, Friday from 4th January
5. DBC evening Devotionals/Reflections
Alistair, Eoghan and others are producing evening devotionals which are going out via Facebook, DBC YouTube at DBCC Gillbrae and by email. These are posted online at 9pm every evening.

Tuesday
6. The Deacons prayer meeting (the Deacons are the elected church leadership team)
The Pastors and Deacons will be meeting via Zoom online for a weekly time of prayer from 8.30-9pm.

Wednesday
7. The Deacons Meeting
The Deacons will be meet as normal for their monthly meeting via Zoom online from 7-9.30pm.


Thursday
8. Food parcel deliveries - started during lockdown, a small team continue to shop, pack and deliver food parcels to those in need within our community. We are grateful to all who continue to gift money and time to allow this vital work to continue.

9. Midweek Prayer Gathering
Following further Covid19 restrictions announced Monday 4th January 2021, the DBC Thursday Prayer Gathering will be cancelled until restrictions allow us to gather again.
Friday
10. DBC Prayer Gathering
Every Friday, Eoghan or Alistair will be hosting and leading a DBC Prayer Gathering from 7.30pm via Zoom. An email will be sent out to all our DBC church family with an invitation and a link. If you want to join in please download the Zoom app onto your phone, tablet, laptop or home computer. You do not need to sign up to Zoom to join the meeting.

We trust and hope that you will be able to access and benefit from some or all of these different opportunities in the weeks to come.
God bless you.
With our love,
Alistair and Eoghan