This is the primary place to receive updates that relate to DBC, the Church Centre and Coronavirus. Changes relating to our activities and the Coronavirus will be communicated here.
Last updated 5th January 2021
Update from DBC leadership (extract from church family update)
Dear friends,
In regards to providing opportunities to physically meet together, for worship, prayer, communion and teaching etc we have sought to be united in our approach as a Leadership Team and to be careful to listen to one another and others within the church family. As a Leadership Team we seek to practise unity in the midst of diversity.
In Ephesians 4:1-3 it says; 'As a prisoner for the Lord, then, I urge you to live a life worthy of the calling you have received. Be completely humble and gentle; be patient, bearing with one another in love. Make every effort to keep the unity of the Spirit through the bond of peace'.
In Ephesians 4:16 it says; 'From him the whole body, joined and held together by every supporting ligament, grows and builds itself up in love, as each part does its work'.
On behalf of the Leadership Team, I want to thank you for your support, encouragement and understanding over the last six plus months. Despite the diversity of views and opinions within the church regarding COVID-19, how we ought to respond to it, and what church life and ministry should look like in the midst of it, I want to thank you for considering others before yourself and for making church 'unity' your priority and goal. This, I believe, demonstrates our love and commitment to one another and above all our love for and desire to honour the Lord Jesus Christ during this difficult time.
Meeting together on a Sunday
With the new COVID19 regulations coming into play on Boxing Day at midnight we have, with regret, decided as a Church Leadership Team that we will be going back to virtual Sunday morning services from Sunday 27th December 2020 until such times as restrictions are lifted again.
The main reason for this is the restriction on numbers for gathered worship which will move down from 50 to 20. It takes a minimum 6-7 people to deliver each Sunday service, three of these overseeing the livestream alone. Over recent weeks we have been seeking to introduce more Live elements to the service and also we've introduced children's ministry during the service and as a direct result of this more families with children have been attending. With a maximum 13-14 spaces, apart from those delivering the service, we just feel for a church our size, meeting on a Sunday is not viable and that it will be better to put our full effort into producing a virtual Sunday service.
The Sunday service will be pre-recorded and available to view from 10.30am on the DBC YouTube site.
In the meantime, read on to find all the ways you can connect with church on Sunday and during the week!
Sunday-Saturday
Alistair, Eoghan and the Pastoral Care team continue to support church family, via phonecalls. If you have any concerns or needs please do not hesitate to contact one of us or leave a message on the church office phone which will be answered every week day morning.
Alistair - 07882 698428.
Eoghan - 07515 939698.
Church Office - 01387 268926.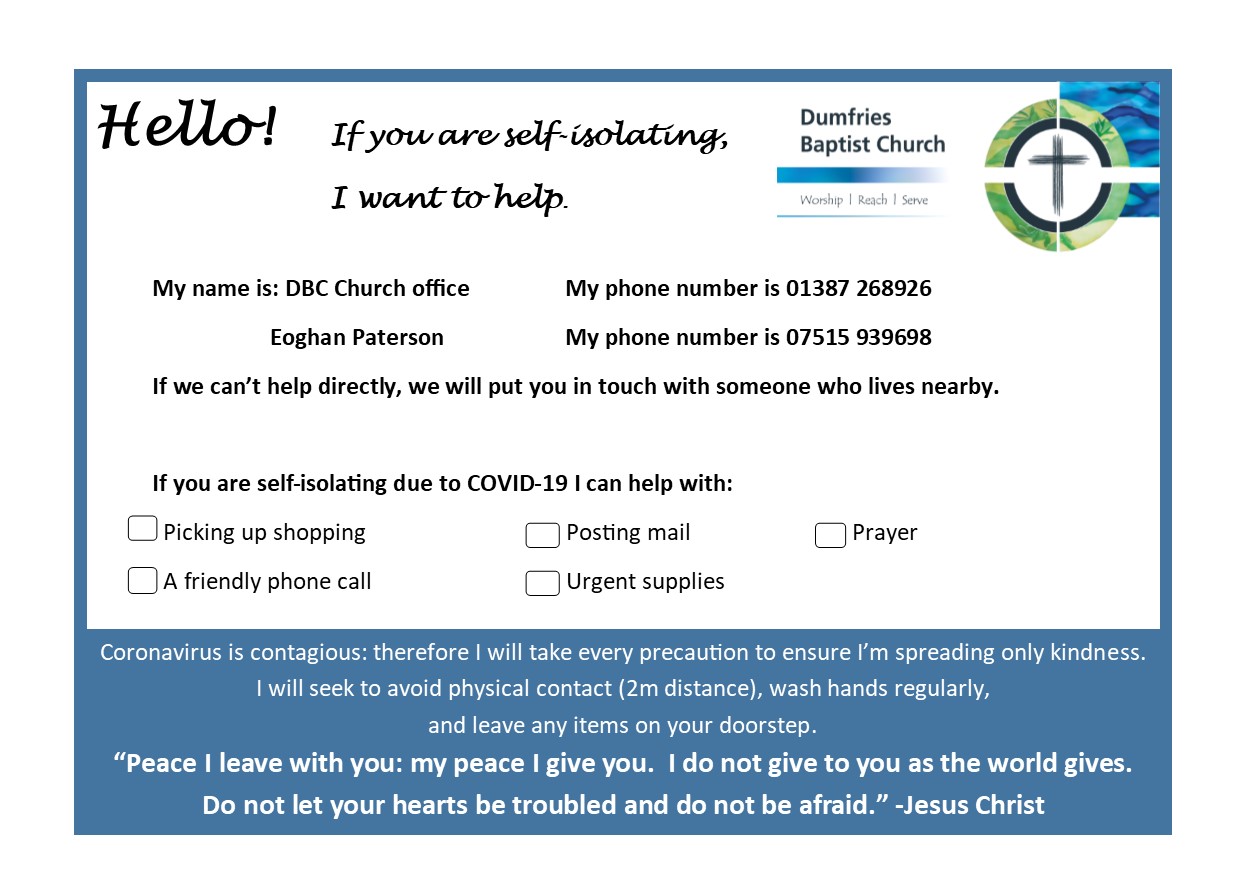 Sunday
1. Morning service via the DBC YouTube
From Sunday 27th December we will be offering a 10.30am service online via the DBC YouTube channel at DBCC Gillbrae on Sunday mornings. Also, remember that you can visit the YouTube channel at anytime after it has been posted up on to our site.
2. Sunday Virtual Sunday School
For all our DBC children, please visit Virtual Sunday School to view a short video for Sunday. If you have children at home please connect into this and join in with them. This has been produced by 4front theatre company and a new video is posted each week.
3. The Baptist Union of Scotland National Prayer event
This will be live monthly on the first Sunday of the month from 7-7.30pm on the BUS Facebook page. You will be reminded of this event and provided with access details every week via Facebook and email.
4. DBC Youth
Each Sunday evening the Youth team are hosting and leading a WhatsApp Live DBC youth event. If you have young people at home please make sure that they can join in with this event. The Youth team are also connecting up with our young people in other ways through WhatsApp.

Monday, Wednesday, Friday from 4th January
5. DBC evening Devotionals/Reflections
Alistair, Eoghan and others are producing evening devotionals which are going out via Facebook, DBC YouTube at DBCC Gillbrae and by email. These are posted online at 9pm every evening.

Tuesday
6. The Deacons prayer meeting (the Deacons are the elected church leadership team)
The Pastors and Deacons will be meeting via Zoom online for a weekly time of prayer from 8.30-9pm.

Wednesday
7. The Deacons Meeting
The Deacons will be meet as normal for their monthly meeting via Zoom online from 7-9.30pm.


Thursday
8. Food parcel deliveries - started during lockdown, a small team continue to shop, pack and deliver food parcels to those in need within our community. We are grateful to all who continue to gift money and time to allow this vital work to continue.

9. Midweek Prayer Gathering
Following further Covid19 restrictions announced Monday 4th January 2021, the DBC Thursday Prayer Gathering will be cancelled until restrictions allow us to gather again.
Friday
10. DBC Prayer Gathering
Every Friday, Eoghan or Alistair will be hosting and leading a DBC Prayer Gathering from 7.30pm via Zoom. An email will be sent out to all our DBC church family with an invitation and a link. If you want to join in please download the Zoom app onto your phone, tablet, laptop or home computer. You do not need to sign up to Zoom to join the meeting.

We trust and hope that you will be able to access and benefit from some or all of these different opportunities in the weeks to come.
God bless you.
With our love,
Alistair and Eoghan